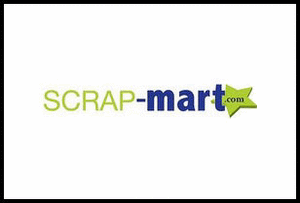 Welcome to the First Annual Scrap-Mart.com Blog Hop! If you are just joining in please go to the Scrap-Mart blog to start from the beginning. There are 31 blogs participating in the hop and you will find some great prizes along the way. You must comment on THAT blog post to be eligible to win that prize. There are also some Grand Prizes posted on the Scrap-Mart blog. You must comment on EVERY blog throughout the hop to be eligible for the Grand Prizes. Comments will remain open until midnight CST on Sunday, December 5th. Winners will be chosen at random for each individual prize and will be announced on the Scrap-Mart blog on Friday, December 10th. You may only win once. We'd like to thank our sponsors for generously donating all the prizes for this hop: Making Memories, Spellbinders, JustRite Stampers, Sizzix, Heartfelt Creations, Lifestyle Crafts, The Stamps of Life, Boss Kut, Unity Stamps, October Afternoon, Copic, and Silhouette America.
If you began at the Scrap-Mart Blog, then you are nearly finished. Just a few more inspirational stops along the way. One of my favorite things to do at Christmas is to wrap packages. I love to coordinate tags with packages, frequently color-coordinate my wrapping paper, and adore ribbon of all kinds. For this hop I thought I would take just one pack of paper, and some embellishments to recycle some gift boxes in my cupboard. I chose the Making Memories Noel collection along with a package of their Glitterter Die Cuts as my main product. I created three gifts and one card that opens to reveal a gift card. Here are the three packages.
For all three packages I decorated only the tops of the boxes, so they can be opened easily and reused by the recipient so they really get two gifts in one. These are easy to recreate and can be put together in about the same amount of time it takes to wrap a gift with wrapping paper.
For the first package I wrapped a piece of patterned Noel paper around the box lid. The paper I chose was a shaped one and I wanted the borders on each side so I cut it, matched the stripes, and layered a strip of gold paper from my stash over the seam. For the tag, I covered a Jillibean shipping tag with some glittery paper from Noel. I distressed a Martha Stewart doiley with chalk ink, layered it to the tag, and attached a sparkling poinsettia from the Glitter Die Cuts with American Craft This to That dimensional dots. I tied a bow with gold Midori metallic ribbon from my stash.
For this package I wrapped a piece of ribbon around the edges of the box top. Then I adhered a piece of Noel paper to the top. To creat the tag, I layered two tags from the Glitter Die Cuts and added a row of red pearls to the bottom of the tag. Using the same ribbon I tied a bow, and added a button and some twine from my stash.
For the final package, I cut a piece of Noel paper and edged it with gold metallic ink before adhering it to the box top. I tied a piece of ribbon around the box which slips off easily to open the gift and tied a beautiful matching tag from the Glitter Die Cuts to the bow with gold thread. "Easy peasy", and so pretty.
I needed a gift card holder so while I had all my supplies out I decided to cross this item off my to-do list.
You can see a piece of the bordered patterned paper I used on the first package as the first layer on the green card base created from a piece of textured American Craft cardstock. I layered a second patterned paper strip on top of it, and cut three reindeers with my
Slice
Fa La La design card
from a third patterned paper. One of the things I love about paper collections is how easy it is to find designs that look great together. I popped each reindeer out with
American Craft This to That
dimensional dots.
For the gift card, I used a Bazzill library card holder that has been in my stash for years. It would be easy to create yourself with the new Quickutz Winter Wishes set. You can see a piece of another die cut peeking out from inside the pocket. I used the same papers to create a border on the library pocket, cut two trees from Fa La La with my Slice and added the cute Santa from the Glitter Die Cuts.
Leaving a comment today on my blog will give you a chance to win one of two 8X8 Campfire paper pads from October Afternoon. And if you've been commenting all along the way, you'll be eligible for the Grand Prize drawings as well. Good luck!!! Now it's time to hop on to Rosemary Dennis who has more inspiration on her beautiful blog for you.